All decks are framed with pressure treated wood. What makes the difference is the finish materials used, basically the decking & railing.

Pressure treated decking and railing are the least expensive. The product still looks good but you have to maintain it by pressure washing & sealing it every few years. You can dress it up by using nulled spindles in the railing for a nicer look.

Pros- least expensive Cons- maintainability, splintering

Composite decking and railings by far are the most appealing and have many different colors to choose from. Composite material is over double the cost of pressure treated decking but it is maintenance free and lasts 20+ years. One way to lower the material cost is to us use a PVC railing in place of composite. PVC looks similar but doesn't have the strength of composite. There are many different types of Composite decking. Trex, one of the more popular, Timbertek, Rino & one of my favorites Azek. Unlike the others Azek is about 1/2 the weight of regular composite decking and is scratch & stain resistant.

Pros- Many types, styles & colors to choose from. Maintenance & splinter free. Increases value of your home. Cons- More expensive than Pressure treated.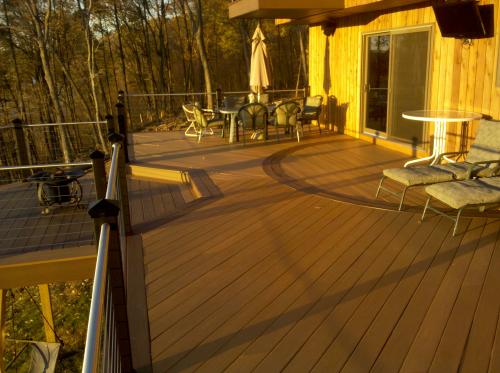 This was one of our more complex decks we built. Here we used the new Azek Arbor series composite decking. The main deck color is Cobre (light brown) with a double border darker in color called Acacia (dark brown). We added a step down octagon built back into the main deck and reversed the deck colors. For the railing stainless tubing, used Trex black post covers and stainless steel wire to minimize interference with the view. We also created a "sunburst" pattern on the main deck by bending two rows of Acacia to make an arch shape then ran Cobre horizontally inside. For the outside we ran Cobre in opposite directions on a 45 degree angle from the center of the arch.